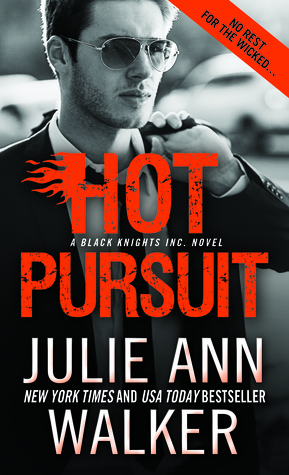 Hot Pursuit is the eleventh (!) book in the Black Knights Inc. series by Julie Ann Walker. I have read most of the series, and think that the romance portion of each story stands fine on its own, however character development and the larger story arcs make the read much more enjoyable for those that have been following along.
Christian Watson, a former SAS officer and current BKI operator, never thought he would return to England after a terrible turn of events forced him to abandon his homeland. But now he's back on British soil where old enemies are determined to do him in. Fighting for his life is pretty much SOP for Christian. Doing it with the beautiful, bossy Emily Scott in tow is another matter entirely. Emily lost her coveted job at the CIA because of a colleague turned rogue, and now she has just one rule when it comes to men: they're for recreational purposes only. But when she and Christian are thrust into very close quarters while evading two mysterious men who want Christian dead, she can't help but question all her ideas about love and life lived on the edge. Battling the bad guys is hard enough, battling her feelings for Christian just might prove impossible.
Hot Pursuit
has two solid main characters, with complex backgrounds the effect

their

relationship, and how they look at the world. Christian had a rough childhood, including loss and serious

trauma

followed by a horrible end to his career with the SAS. Emily had a terrible childhood and is certain that she is not meant for lifelong love or commitment. It is not the danger that keeps them apart, that is just for some spice and excitement for the story line. The real conflict here is all based in fear and

stubbornness

. I do like that

Christian

and Emily do trade quips and snipe at each other, but they also have very important talks about

their

pasts, and

possibilities

for the future. I like they they did not just jump in the sack and call it good- but actual had to work through the problems caused but

their

formative

years, but while I enjoyed it the book did not wow me.