Diaper Duty Vampire is the first book of the Vampires of Amber Heights series by R.E. Mullins. However, this is the second vampire series, and this one is certainly related to the first. I think those that have read the The Blautsaugers of Amber Heights series that proceeds this will definitely get more from the read than those of us that were newcomers to the author.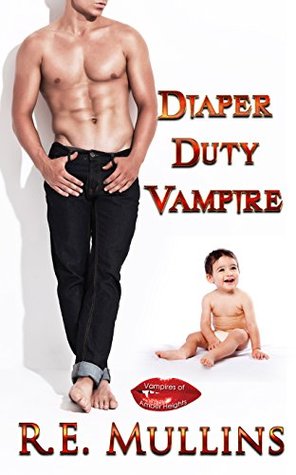 During the Civil War, Union soldier, John Alden took a musket ball to the gut. As he gasped his final breath, he was turned into a vampire and started life anew in Amber Heights, Missouri. For over one hundred and fifty years, he's lived a rather solitary life as a vampire Enforcer.
Young single mother, Joann Clarkson, needs a job and fast. Hoping to be rehired, she returns to Dr. Michaela Blautsauger's lab prepared to eat a hefty helping of humble pie. She comes to regret that decision when she's taken hostage. Things look grim but she'll never stop fighting to escape. Her son needs his mama. As an Enforcer, John must hunt down the vampire who kidnapped Joann. In his search, John winds up babysitting her toddler Cody. Changing diapers might be worse than getting staked, but nothing compares to how he feels when both mother and child fall into danger again.
Diaper Duty Vampire is a fast, fun read. I was greatly amused with John's efforts to tend to little Cody. The diaper blow outs and issue that come with taking care of a toddler had me giggling. Joann is not as fleshed out as I would have liked, but her character still had some spunk and that balanced it out a little for me. John is a more complex character, and I felt like I got more of his past and motivation than I did Joann's. The action was well done, and had me wondering what might happen next, but the romance felt a little flat. I did not get all the types of vampires and drama that caused the danger and suspense elements of the story, but I think that fans of the author will already have that back ground story and get more from it than I did. I did enjoy the read, but I was not blown away by it or intrigued enough to hunt down the previous books for the back story, or to follow up on the really good tease for the next book in the series.