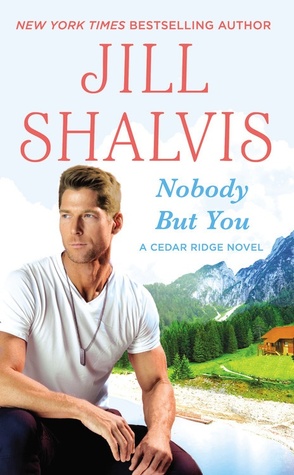 Nobody but You is the third book in the Cedar Ridge series by Jill Shalvis. The previous books are Second Chance Summer, and My Kind of Wonderful. The main connection between the books is the family and town most involved in each book, but I think newcomers to the series could still enjoy each book on their own.

After an overseas mission goes wrong, Army Special Forces officer Jacob Kincaid knows where he must go to make things right: back home to the tiny town of Cedar Ridge, Colorado. All he needs to scrub away his painful past is fresh mountain air, a lakeside cabin, and quiet solitude. But what he discovers is a gorgeous woman living on a boat at his dock. Sophie Marren has nowhere else to go. She's broke, intermittently seasick, and fighting a serious attraction to the brooding, dishy, I'm-too-sexy-for-myself guy who's now claiming her dock. Something about Jacob's dark intensity makes her want to tease—and tempt—him beyond measure. Neither one wants to give any ground, until they realize the only true home they have is with each other.

Nobody but You is funnier than the other Cedar Ridge books have been, but was a little closer to the humor level of some of her earlier books, like the Lucky Harbor series. The small town and family atmosphere is there, as are the strange coincidences that come with being in a small community. I loved Sophie's attitude, inner dialogue, and sheer determination. Jacob's battle with his past, his guilt, and his family made me feel; for him and root for him to find his place and path in life. i liked that communication is key here, and that it was only in not sharing things that were important that they almost lost everything- but that them overcame all the odds and their own stubbornness to find happiness and a new beginning. A great read all around. I wish I had been reading this from a lake side cabin, but that was the only thing that could have made me enjoy the read more.

Nobody but You is consistent with the style and quality that I expect from Shalvis. I enjoyed this one more than the last couple that I have read, but I think that was because of the characters rather than other aspects of the book. I liked the humor and the main characters ability to laugh at themselves so much that anything i did not like about the book was washed away.