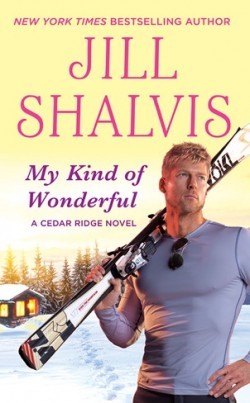 My Kind of Wonderful is the second book in the Cedar Ridge series by Jill Shalvis. It is currently scheduled for release on December 22 2015. Each book can stand on its own, but like most romance series, readers have a better feel for the cast of characters if they read the series in order. If you like to read in order, the first book was Second Chance Summer.
Bailey Moore has list of things that she wants to do; like ski in the Rockies, explore castles in Europe, and go ballroom dancing in Argentina. Now that she has a second lease on life, she's determined not to miss a thing. What she doesn't realize is that item #1 comes with a six-foot-one ski god hot enough to melt a polar ice cap. She doesn't want to miss out on him either, but Hudson Kincaid isn't the type of guy to love and let go. And as gorgeous as Cedar Ridge is, she's not planning to stick around.
As head of ski patrol at his family's resort, Hud thinks he's seen it all. But never has he run into someone like Bailey. She might look delicate, but her attitude is all firecracker. And her infectious joy touches something deep within him that he's been missing far too long. Now he'll just have to convince Bailey to take a chance on her biggest adventure yet, something rare and all kinds of wonderful.
My Kind of Wonderful
has some of what I expect from Shalvis. There are complicated characters with serious baggage but a good sense of humor and common sense, things that are sometimes lacking in romance novels. I liked Bailery's outlook on life, for the most part. She wants to grab life by the horns and make up for all the time she lost. However, she is still afraid to take some of the biggest gambles, the ones that involve other people. Hud has plenty of people in his life, and even more obligations. His demons are different, but have the same result. The keeping people at arms length. Everything is here for a pretty perfect Shalvis novel, and I think most fans will be happy and satisfied with the result. For some reason I had trouble getting into the story and not just mentally urging the characters to move it along and find their happily ever after. I do think that this was more me than the book, since I was thinking about how many books i had to get through in a certain amount of time, dealing with thanksgiving, and nursing a chest cold while reading the book.
My Kind of Wonderful
is a book with everything Shalvis fans look for. There are huge backstories, interfering family, wounded main characters, humor, and moments of suspense. I do not think any fans of contemporary or small town style romance will find anything to complain about with this installment of the Cedar Ridge series.