Cast in Angelfire by S.M. Reine is the first book in the Mage Craft series. Newcomers to Reines work might be able to catch up with this new series, but I have not finished reading all the previous series, and feel like what I had read gave me big clues. If I had caught up before starting this book I feel like I would have enjoyed it even more. So, I would suggest either starting fresh here, or reading everything else first.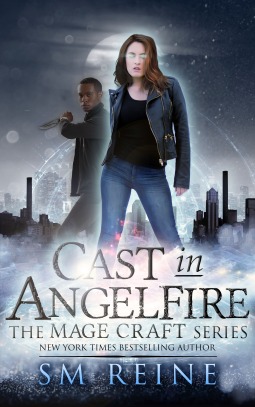 Eighteen-year-old Marion can't remember anything before waking up in the hospital. All she knows that a lot of people want to kill her. She quickly has to come to terms with the fact that her would-be assassins are not human. Vampires, faeries, and angels and real and they all want Marion dead. Marion turns to Lucas Flynn: a mysterious doctor who seems to know more than he's letting on. He is as good with a gun as he is with a scalpel. He fights like a demon but claims that he's human. And he's hellbent on protecting Marion. Lucas claims that Marion is a mage: half-witch, half-angel with terrifying powers that could crack the world. But Marion can't remember how to cast magic any more than she can remember where she comes from. Marion must find her identity and her power…before the forgotten sins of her past catch up with her.
Cast in Angelfire was really well done. I liked the dynamic of Marion not knowing anything, which made it easier to catch up to were the world the book takes place in. I liked that we got to explore the world, characters, and Marion herself right along side her. There are multiple points of view used in the storytelling, but it worked well here, giving readers a better view of the bigger picture. My only complaint is common with just about any book aimed at the young or new adult novel. There is a leaning towards a love triangle, though it is never firmly set into play. I could really do without that, or the possessive boyfriend troupe. However, that and the reordering of my reading pile are my only real issues here, which are small problems as far as I am concerned.
Cast in Angelfire was awesome, but also made me realize how far behind I was in the world that Reine has created. I really enjoyed the story, and the glimpses of what characters and bits I already knew from other books. It was a really gripping read, with mystery and character development that I look forward to following.