How to Wed a Warrior by Christy English is the second book in the Broadswords and Ballrooms series. The first book was How to Seduce a Scot, and while reading the series in order does give a better understanding of the characters, they can each be thoroughly enjoyed on their own as well.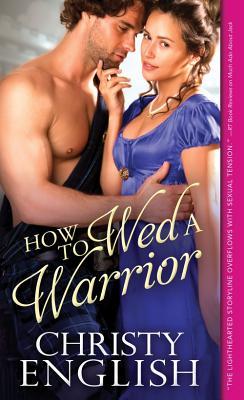 When his wild spitfire of a sister makes a scene by drawing her claymore in Hyde Park, Highlander Robert Waters knows something must be done. To forestall the inevitable scandal, he hires widowed Prudence Whittaker to teach his sister how to be a lady, never expecting he'd become hungry for a few lessons of his own.

Outwardly prim, Pru is adept at keeping would-be suitors at bay. She has to if she wants to keep her secret. But all the drab colors and careful manners in the world will not hide her abundant charms from this determined Highlander.
How to Wed a Warrior is a nice historical romance full of interesting characters. Pru is a determined woman, looking to make her own way without attracting the attention of the members of her old social circles. Hiding, as chaperon dressed in drab ill fitting dresses seems the best way to go about it. However, she did not count on attracting the interest of a charismatic highlander that cares nothing about social acceptance or reputation. Nor did she expect to like him, or become such good friends with her new charge. There is tons of action, lots of moments of humor or discomfort for the major players, and a few plot twists just to keep readers on their toes. A fast and fun read with great characters- just what I was looking for too shake me out of a reading slump.