Wicked Charms is the third book in the Lizzy & Diesel series by Janet Evanovich and Phoef Sutton. Lizzy stumbles upon another trail to a mystical stone, but accident of course. Murdered and mummified more than ninety years ago, bootlegger Collier "Peg Leg" Dazzle once found and re-hid a famous pirate's treasure, containing the Stone of Avarice, somewhere along the coast of New England. While Lizzy would just like to live a quiet, semi-normal life, Diesel is all about the hunt. And this hunt is going to require a genuine treasure map and a ship worthy of sailing the seven seas, or at least getting them from Salem Harbor to Maine.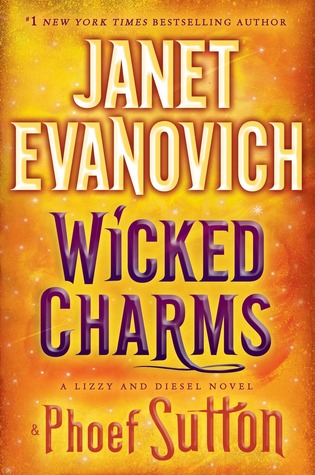 Wicked Charms is exactly what I expect from Evanovich. Lizzy and Diesel are on the hunt again, and the sexual tension between them has hit full force- and then some. The usual wacky characters are here, along with some new characters. There is the millionaire that might be the answer to Lizzy's publishing dreams but has his own motives and craves the Stone of Avarice for his own less than sane reasons. There is also an obsessed professor, coroner that has his eye on Lizzy, and a pirate speaking museum employee with an eye on Glo. Mayhem, magic, murder, and Carl the monkey all play their part in the chase for the stone. There is a little less humor in this installment, but an extra helping of both danger and mayhem. Not my favorite from the series, but a great weekend read.

Wicked Charms is a fun, fast read with more perilous situations than the previous books in the series, and a little less humor, in my opinion. however, it still provides what fans of this author and of this series are looking for. It is good entertainment and a solid weekend read.