Soulless is the first book in the Parasol Protectorate series by Gail Carriger. Alexia Tarabotti is not your average girl. She has no soul, she is also a spinster whose father is both Italian and dead. When she was rudely attacked by a vampire, breaking all standards of social etiquette, she triggers an investigation with the appalling Lord Maccon (loud, messy, gorgeous, and werewolf). With unexpected vampires appearing and expected vampires disappearing, everyone seems to believe Alexia responsible. Can she figure out what is actually happening to London's high society? Will her soulless ability to negate supernatural powers prove useful or just plain embarrassing? Finally, who is the real enemy, and do they have treacle tart?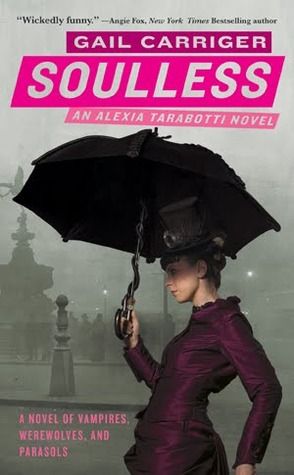 Soulless is a fun blend of paranormal romance with mystery and steampunk. The character development of Alexia and the world building done are both perfectly paced. Alexia is practical and smart, with little fear and much curiosity. While she does lack some important desire for self preservation, her willingness to investigate is what gets the reader so personally invested in the adventure. Lord Maccon and the rest of the other characters made me laugh and had me grinding my teeth in turn. I liked that even the most seemingly stereotypical character was anything but. While I did expect one of the little twists, the execution and following drama was oh so worth it. It was just such an engaging, fun read that I already have the next book ready to go and waiting for my attention.
Okay, I am officially now a fan girl for Gail Carriger. I adored the world of the Finishing School series, and just had to go back and read this series, which started it all. I have to say, that the Parasol Protectorate series promises to be even better. Go, read, now.