Princess in Disguise is the forth book in the Wide-Awake Princess series by E.D. Baker. It is currently scheduled for release on March 31 2015. Annie and Liam's wedding day looks as if it's going to be perfect. Then everything starts to go wrong. Liam's father doesn't show up, members of the wedding party come down with strange afflictions, Annie's gown is ruined, a storm floods the castle grounds, and an unknown king lays siege to the castle. Only Annie and Liam can get past a magical fog to find Moonbeam, but even after they find her, it's up to them to discover who cast the spells that ruined the wedding, and why the unknown king wants to conquer Treecrest.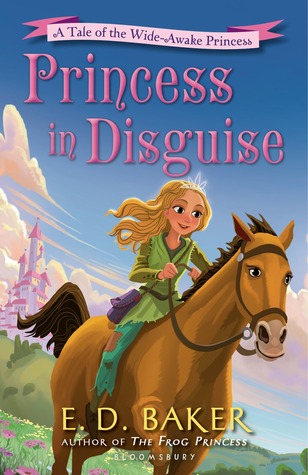 Princess in Disguise holds up to the action and adventure of the previous installments of this series. I will admit to feeling like I missed a book or some details from the series when I first started reading, and it is because I did somehow miss reading The Bravest Princess, which was recently released. Even with the gaps in my knowledge, I caught up quickly and really enjoyed the read. Anne and Liam face troubles and step up to solve the problems. Each conflict they face is defeated with wit, grace, and courage rather than brute strength or violence. I find that rare in adventure stories and really like that about this series. Anne's unique power of magic immunity again plays a big role, and I liked that we finally saw what Liam's magical talent was as well. Another great story from Baker to capture the imagination and entertain.
Princess in Disguise is a wonderful middle grade fantasy adventure for fans of E.D. Baker. Anyone that is current with this series will find this another must read. If you have missed previous books in the series I do recommend reading the backlog first, not only so you understand all the players, but also because they are simply good reads.