Can't Hardly Breathe is the fourth book in the Original Heartbreakers series by Gena Showalter. Despite the number of books I have read by this author, I have some how missed this series until now. Thankfully, newcomers to the series can fully enjoy the read but I suspect that fans of the series will be better informed about the characters in the story.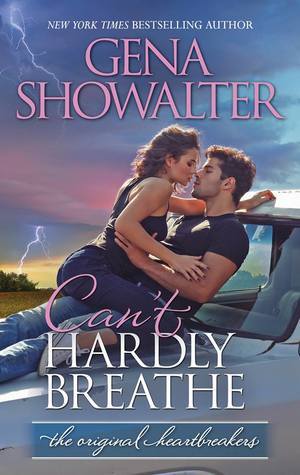 Bullied in high school, Dorothea Mathis's past is full of memories she'd rather forget. But there's one she can't seem to shake—her long-standing crush on former army ranger Daniel Porter. Now that the sexy bad boy has started using her inn as his personal playground, she should kick him out but his every heated glance makes her want to join him instead. Daniel returned to Strawberry Valley, Oklahoma, to care for his ailing father and burn off a little steam with no strings attached. Though he craves curvy Dorothea night and day, he's as marred by his past as she is by hers. The more he desires her, the more he fears losing her. But every sizzling encounter leaves him desperate for more, and soon Daniel must make a choice: take a chance on love or walk away forever.
Can't Hardly Breathe

is a tough journey for two well developed characters. I felt that Daniel's character was extremely well developed with his love of his father and struggles with PTSD. I found myself relating to Dorothea's high school experiences, and felt badly for her through most of the read. I loved her resiliency when it comes to bouncing back and standing up for herself in the long run, but was a little annoyed at her inability to stand up to her own family, particularly her mother. Although, her fierceness in protecting and forgiving others was endearing and made me love her character. I found the journey she had to take with the wounded Daniel and his friend Parker to be highly engaging. The added complications with Dorothea's ex, career goals, and family issues made for a very full storyline, that kept me wondering when the next shoe would drop. The small town characters added just enough additional interest to make me curious about what happened in the previous books, and what will happen next to a few of the characters.