The Troublemaker Next Door is the first book in the McCauley Brothers series by Marie Harte.

Flynn McCauley never thought he'd be so cliché as to fall for the girl next door. But when Maddie calls him over to help fix her faulty sink, he's a goner. Too bad the fiercely independent interior designer wants nothing to do with him. Even worse, he's forced to rely on the advice of his nosy brothers—and his five-year-old nephew!—to figure out how to make her give him a shot.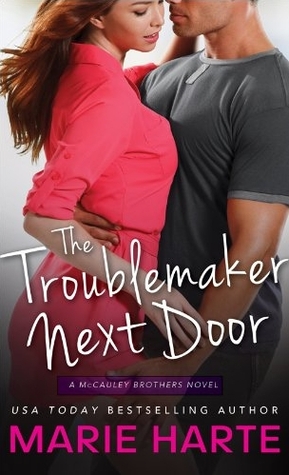 The Troublemaker Next Door is a nice way to visit the world I have come to love from Harte, and see where it all started. Maddie has always had to work hard for everything, which makes her stubborn and fiercely independent- even when she should ask for support. Flynn meets Maddie on her worst day, and is immediately enthralled by her spirit and temper. I like that they are both honest about what they do and do not want from each other, and then have to struggle with themselves about the true of their words. I really loved that while Flynn is very much a take charge guy, he gives Maddie respect and space. His patience and thoughtfulness really makes him a great character, and one that will leave many readers swooning. The juxtaposition between the sweetness of his character and the not so sweet talk and commanding nature they both exhibit in the bedroom makes it all more attention grabbing. I loved the banter between the characters, and the set up for the bevy of books that follow it. Even knowing how some of the pairings turn up, I will be reading all the books I missed along the way.
The Troublemaker Next Door is a book I picked up because I enjoyed the later works of the author so much. This has the same writing style and feel, but I can see how much she has already grown and evolved as a writer. I will continue reading her books new and old, because of her skill with characters.