Breath of Fire is the second book in the Kingmaker Chronicles by Amanda Bouchet. It is currently scheduled for release on January 3 2017. I highly recommend reading this series in order, because of the world and character development. The first book was Promise of Fire, which I loved.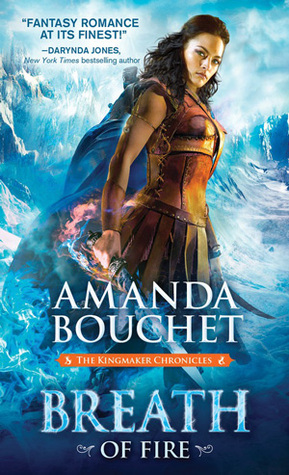 "Cat" Catalia Fisa has been running from her destiny since she could crawl. But now, her newfound loved ones are caught between the shadow of Cat's tortured past and the threat of her world-shattering future. So what's a girl to do when she knows it's her fate to be the harbinger of doom? Everything in her power. Griffin knows Cat is destined to change the world-for the better. As the realms are descending into all-out war, Cat and Griffin must embrace their fate together. Gods willing, they will emerge side-by-side in the heart of their future kingdom, or not at all.

Breath of Fire is a grand adventure that continues to develop or characters, the world, and the political intrigue. Cat continues to grow as a person and Griffin grows as well as they find how they fit together in the bigger picture. More secrets are shared, danger faced, and crises faced. There are plenty of battles and strategies, as well as personal conflicts and magic. I think the only thing I did not like here was the ramping up of the description of the physical relationship between Cat and Griffin. I think it did overwhelm some of the other aspects of the book. It was dealt with better in the first book, and in this style of book I tend to be more interested in the emotions and adventures of they characters than a detailed description of their intimate moments. Since I read tons of romance this might seem odd, but t is what it is. That being said, I still love this series and cannot wait to get my greedy hands on the next book.