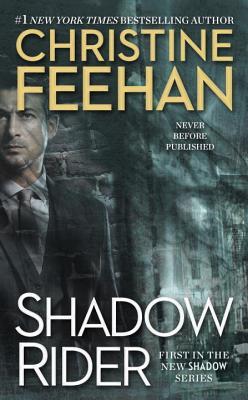 Shadow Rider by Christine Feehan is the start of the new Shadow series.

Whether it's fast cars or fast women, Stefano Ferraro gets what he wants. When he's not fodder for the paparazzi, he commands Ferraro family businesses—both legitimate and illegitimate.

While their criminal activity is simply a rumor yet to be proven, no one knows the real truth. The Ferraros are a family of shadow riders capable of manipulating light and dark, an ability Stefano thought ran in his family alone—until now.

With little left to her name, Francesca Cappello has come to Chicago in hopes of a new life. She wasn't expecting to attract the attention of a man with primal hunger in his eyes, driven to claim her as his to protect and to please. And if he discovers her secret, it could ruin her.
Shadow Rider is a return to the high action stories that I used to love from Feehan. Stefano is a dangerous man, with a gift and large, powerful family that make him even more troublesome. He is an extreme alpha male, with an overdeveloped need to protect those around him and lingering issues from childhood. Francesca is fiercely independent and running from trouble that she does not want to bring to anyone's doorstep. She comes to stay near her only friend because of a promised job, and gets far more than she bargained for when she catches Stefano's eye. Personalities collide and tempers flare, but Stefano always gets what he wants, and he wants Francesca safe and much more. His protective streak, her determination, and the danger following her collide in a suspense filled story. There is plenty of sex, and a whole bunch of bossing around. I was a little disappointed in Francesca's willingness to give up things that are important to her, but it is consistent with the characters. A much better showing by Feehan than I have read in the last few years, much closer to the books that had me enthralled in the beginning of her Carpathian series, but still not quite there. It leave me hopeful for this series.

Shadow Rider reminds me of the early books I read from Feehan. There are plenty of sexy times, a seriously over alpha male, and a sassy woman or three (prerequisites for her books) as well as the danger filled plot that kept me interested to see what they might face next, which I have found lacking in the last few books that I have read in the Carpathian, Ghost Walker, and Sea Haven series that I used to love.