Dragon's Heart is the first book in the Dragon Fey Saga by Michelle Rabe.
Serena Harlowe always knew her place.
A foundling placed with the tutor of Illedrian royalty, she grew to be a talented fighter. After rising to the rank of lieutenant in the royal army, she proves her worth and thwarts the attempted assassination of the man she loves.
The selfless act will change her life forever and start a chain of events that will unlock her hidden past.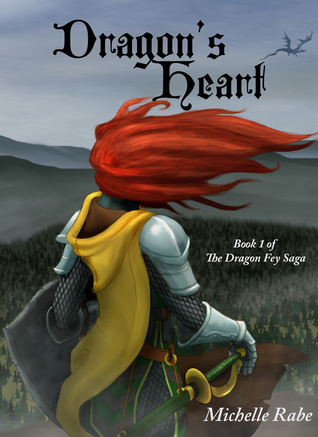 Dragon's Heart is a multilayered start to a series that offer high fantasy, romance, and fierce female characters. Killian is the human prince, fierce and fair but tired of doing his family's bidding and dealing with the marriage mart when he already found the woman of his dreams. Serena is a foundling that has been raised around the palace and worked hard to become part of the guard that protects the kingdom. Neither know that the Dark Fey, which everyone assumes are gone, are pulling strings and trying to take over, while the Dragon Fey are not quite extinct either and both are much closer to things than anyone might expect. The characters each are multi dimensional, and have growth as the book progresses, this is true both the main characters and the secondary characters. Royal expectations, life, and love are all on the line as Serena's past comes to light and best friends turned lovers have bigger obstacles to over come than either could have expected. Secondary characters and the expanding world make this an extremely interesting and entertaining read. I am looking forward to seeing where all this goes next.
Dragon's Heart is a solid opening to what promises to be an interesting series. I enjoyed the character and world building, and while many questions are answered there are some interesting options left open at the end of the book. The balance between satisfying readers and leaving them looking forward to the next book is done close to perfectly here.