Every child likes to read about people that celebrate the same holidays that they do and stories surrounding those holidays. It is also important for children to learn about religions and cultures that differ from their own in order to foster understanding and acceptance for those that might otherwise be labels as different or teased. It is great for children in multi denominational families, or with close friends or family that celebrate differently, to see children like them in stories. The comparisons of celebration, meshing of cultures, and acceptance of all people are very important lessons for children and adults alike. These picture books are all about those that celebrate, take part in, or are curious about more than one kind of holiday celebration come December.
The Trees of the Dancing Goats by Patricia Polacco is the story of a childhood memory and true friendship. Trisha loves Hanukkah, because that is when her mother stays home from work, her Grampa carves wonderful animals out of wood as gifts, and her Babushka makes potato latkes. In the midst of her family's holiday Trisha visits her closest neighbors, thinking that she will find them find them decorating their home for Christmas. Instead they are all very ill, suffering from scarlet fever. Trisha's family is lucky; they have been spared from the epidemic. Trisha's family has a hard time celebrating when they know that their neighbors, their friends, are so ill. But Grampa has a wonderful idea. They will cut down, decorate, and secretly deliver Christmas trees to the neighbors. Trisha and her brother sacrifice the carved animals they were to receive as gifts in order to decorate the trees and do a good deed for their neighbors.

My Two Holidays: A Hanukkah and Christmas Story by Danielle Novack and Phyllis Harris offers some discussion and explanation about how some families celebrate different holidays, or even two holidays instead of one. At school, Sam's classmates discuss which holiday they celebrate in December. Sam gets very nervous, because in his family they celebrate Christmas and Hanukkah. No child likes feeling different, and this is a great book for starting a classroom discussion or helping a child in a similar situation feel more at ease.
Elijah's Angel: A Story for Chanukah and Christmas by Michael J. Rosen and Aminah Brenda Lynn Robinson (Illustrator) is based on the life of the real Elijah Pierce. He was a lay minister, barber, and woodcarver that lived in Ohio. Pierces woodcarvings are currently owned by the Columbus Museum of Art. The story is a heartwarming tale of one child's acceptance of others. A young Jewish child, nine-year-old Micheal, becomes friends with an elderly African American barber, Elijah, who makes elaborate woodcarvings in his free time. A number of the woodcarvings are biblical, since the barber is a devote Christian. Michael admires the woodcarvings, and in one day of overlapping holiday celebrations Elijah gifts Michael a carving of a guardian angel. Michael is worried that the wonderful carving might go against his own faith, and he comes to learn that friendship and gestures of love can come home with you and rise above the differences in belief. The artwork features thick sweeps of paint and wood-tones, which creates the feel of the characters being carved from wood themselves.

Light The Lights! A Story About Celebrating Hanukkah and Christmas by Margaret Moorman focuses on a household's happy celebrations of Hanukkah and Christmas. The title gives a good idea of the motif used throughout the book to tie the two celebrations together. The menorah candles glow brightly in Emma's house during the Jewish holiday; then lights glow nicely on her family's Christmas tree. While the family's celebrations are depicted as purely secular, Emma's response to everything in both celebrations is innocent wonder and delight. The images in the book are bright and unpretentious. There is no mention of the backgrounds of either holiday, and the concentration on the secular might bother some, but might make it more acceptable in a public school setting.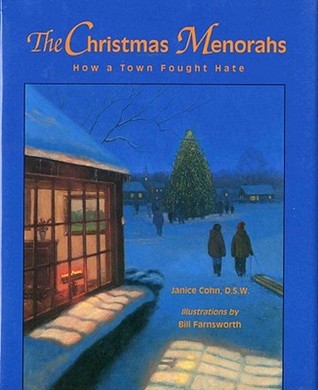 The Christmas Menorahs: How a Town Fought Hate by Janice Cohn and Bill Farnsworth is based on a true story. In Billings, Montana, a rock is thrown through a boy's bedroom window which was decorated by a menorah. Isaac, the victim, is afraid to return the menorah to his window. His mother takes action and reports the crime to the police and talks on television and at a meeting to discuss the indecent and to encourage the community to take a stand against intolerance and bigotry. Stories about Danish people assisting Jewish neighbors during World War II inspire the community and people in the town, regardless of their own religion, display menorahs in their own windows. After a schoolmate shows support Isaac his support, Isaac is able to take his own stand and return his menorah to its rightful place. The images in the book are soft-focus, realistic oil paintings which dramatize the story and give the characters personality. This is a great book for discussing tolerance. It would also be useful in starting a discussion about acceptance, personal strength, the power that can be found in community, or the existence of hate crimes.
Other book suggestions include; Yesterday's Santa and the Chanukah Miracle by Sarah Hartt-Snowbell and Patty Gallinger, A Christmas Chanukah Wish by Irene Buggy, Valerie A Lepore-Ney and Ileana Nadal, and A Chanukah Noel by Sharon Jennings and Gillian Newland.