Some people have a love for novels that take place in one specific time period. Others have several favorites that they enjoy reading about. Each of these novels artfully span the centuries rather than staying in one short period of time. These are not the lighthearted fare that I normal suggest, but much more reaching and intense. Explore these new times and places, they are all well worth the journey reading them will take you on.
Specimen Days
by Michael Cunningham is his first book after The Hours. Similar to the previous book
Specimen Days
is a compendium of three stories in which we see a similar group of characters. There is a small boy, a young woman and an older man. The first section of the book, entitled "In the Machine", is a ghost story, which takes place during the peak the industrial revolution, as people face the difficulties of the new machine age. The second section of the book is called "The Children's Crusade". This portion is set in the early twenty-first century and plays within the traditions of noir thrillers as it follows the pursuit of a terrorist group that is apparently setting off bombs at random locations throughout the city. The last section is titled "Like Beauty" and takes place in a New York one hundred and fifty years in the future. At this point New York is almost overwhelmed with refugees from the first inhabited planet Earth is able to establish contact. The poet Walt Whitman is a muse and prophetic figure that ties all the sections together. Specimen Days is haunting, genre-bending, and transforming work about life in one of the United State's greatest city and a thorough meditation about America's destiny.
Ireland: A Novel
by Frank Delaney is an epic tale that explores the passionate Irish spirit. Seanchai, a traveling storyteller, arrives unannounced on the doorstep of a home in the countryside on a winter night in 1951. To trade for food and shelter for the night Seanchai offers his hosts and their neighbors to listen to his tales. He tells tales Ireland's history. Nine-year-old Ronan becomes so enthralled in the tales that he is determined to find the storyteller again after he leaves under mysterious circumstances. Ronan's quest for Seanchai becomes much more than expected. It soon becomes a journey of self-discovery and an immersion into the sometimes-conflicting histories of Ireland. As the long-unspoken secrets of his own family begin to reveal themselves, he becomes increasingly single-minded in pursuit of the old man, who he fears may already be dead. However, Ronan's personal path also leads him deeper and deeper into the history and mythology of Ireland itself, in all its drama, intrigue, and heroism.
Ireland travels through the centuries, bringing together Ronan's quest for the Storyteller with a rich unfolding of defining moments of Irish history. Events include the harsh Ice Age to the green but troubled world of political conflict and tourism. Readers are introduced to fool hardy kings, fabled saints, pure monks, great works of art, cunning Norman raiders, powerful tribal leaders, poets, politicians, and lovers. Each story demonstrates the true wonder of Ireland and the connection between the people and the land. Ireland is a beautiful novel by an author whom is passionate about his country.
The Lazarus Project by Aleksandar Hemon starts in 1908 when 19-year-old Lazarus goes to the home of George Shippy, the Chicago chief of police. His visit is supposed to be a simple letter delivery, but Shippy shoots Lazarus twice, killing him. Shippy releases a statement claiming that Lazarus was a terrorist. Olga, Lazarus' sister is left alone, grieving, and destitute in a city brimming for unrest. In present day, a young writer, Brik, becomes obsessed with Lazarus' story and the details as to why things happened the way they did. There has to be more to the story. As Brik investigates with a friend, his story becomes intertwined with Lazarus'. They retrace Lazarus's path across Eastern Europe with scenes from history and today. Photographs enhance the tale and draw readers deeper into this original and entertaining novel. In The Lazarus Project, Hemon creates a novel that has both haunting historical feel with a sharp wit and heart wrenching voice.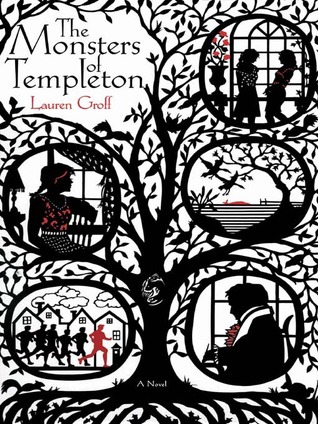 The Monsters of Templeton: A Novel by Lauren Groff is a novel that spans two centuries. It is partially a contemporary tale about a girl's search for her father. It is also part historical novel and part ghost story. I found The Monsters of Templeton to be spellbinding story about a town's hold on a family's secrets.
Willie Upton returns home after a disastrous affair with her professor. She expects to be able to hide at home with her mother who has changed from free spirited hippie to strict born-again Baptist. However, the death of the monster changes everything. The very fabric of the quiet town her ancestors founded has shifted. Willie also discovers that the stories her mother had told her about her own history is not quite true. She starts digging for the complete truth about her family history, only to discover that the secrets of her family run much deeper than she expected. The dead tell their own tales through journal entries, letters and editorials in this haunting story. Dark mysteries become known, stories from the past are put to rest, the truth about more than one monster is revealed as the past and present blur.
Burning Bright: Stories by Ron Rash uses the lives of unforgettable characters to demonstrate the beauty, starkness and violence in Appalachia. The stories range from the civil War era to present day. Together the picture painted of the region by these stories with all of its complexities like some books can capture the true essence of a person. Appalachia is dichotomous with elements of exceptional beauty in the harsh rugged landscape, as well as the effect of siren or muse to those that visit or live there. In one story, "Back of Beyond," a pawnshop owner profiting from stolen goods helps his brother and sister-in-law when their son threatens them. In the title story, a small town woman marries an outsider, who becomes the prime suspect when an arsonist starts fires in the Smoky Mountains. These stories shed light on an area that often goes unexplored.
These books carry the reader across the boundaries of time and place. I highly recommend all of these to give you a new perspective on your own place in time and understanding of others.