Night Study by Maria Snyder is the second book in the Soulfinders

series, and part of a much larger storyline. It is currently scheduled for release on January 26th 2016. Do not start reading this author's work here! To understand the characters and the larger story line I highly recommend starting at the very beginning with Poison Study.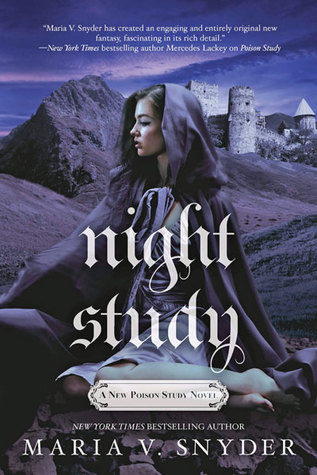 Ever since being kidnapped from the Illiais Jungle as a child, Yelena Zaltana's has been fraught with peril. But the recent loss of her Soulfinding abilities has endangered her more than ever before. As she desperately searches for a way to reclaim her magic, her enemies are closing in, and neither Ixia nor Sitia are safe for her anymore. Especially since the growing discord between the two countries and the possibility of a war threatens everything Yelena holds dear.
Valek is determined to protect Yelena, but he's quickly running out of options. The Commander suspects that his loyalties are divided, and he's been keeping secrets from Valek...secrets that put him, Yelena and all their friends in terrible danger. As they uncover the various layers of the Commander's mysterious plans, they realize it's far more sinister that they could have ever imagined.
Night Study is exactly what I needed after Shadow Study. Valek and Yelena face big secrets, bigger danger, and even larger conspiracies. I liked to know Valek better, and seeing more of his past and inner thoughts. Yelena remains a valiant and resilient heroine, even facing huge obstacles and danger. Readers are treated with more Leif, as well as many side characters that have become more and more important as the circle of trust become smaller and more dangerous. There are just so many layers of story going on here that anyone not starting from the very beginning will be confused by the connections between many of the characters. Thankfully I remembered the important bits as I read, and never felt lost or left behind. I am afraid to say anything about any plot points, because the slow unravel of the true dangers and troubles is just so perfectly slow that I would hate to ruin any of the subtle reveals, which in turn reveal much bigger plot points as the story continues. My only complaint is that I finished the book, and now am left wondering what will happen next!
Fans of Snyder are already planning on reading Night Study, and they will not be disappointed. We get a much bigger look at Valek's past and thoughts than I ever expected, and had every bit of action, danger, and great characters that I expect and hope for when I pick up a book. If you haven't already become a fan, then go read Poison Study and binge read Snyder's work. You will thank me later, except for that one… fellow fans know which one I mean.