Literature fans might want to see where famed writers Louisa May Alcott, Herman Melville, Samuel Clemens and Henry David Thoreau composed their most influential works. Enjoy these sites as individual day trips of on a literary pilgrimage through the area to satisfy your curiosity and find your own inspiration.
The Harriet Beecher Stowe Center
in Hartford Connecticut is where this author lived from 1873 until she died in 1896. Stowe is most regarded for writing
Uncle Tom's Cabin
, however she wrote over thirty books.
Uncle Tom's Cabin
challenged the nation to really think about slavery and still resonates with many as a great work of literature and protest. The center has her spindle, rare manuscripts, books and several kinds of personal artifacts on display. There are specialized tours available for each season as well as dedicated tours for children and garden fans.
The Mark Twain House
in Hartford Connecticut is where Samuel Clemens, better known as Mark Twain, lived from 1874 to 1891. He wrote
The Adventures of Huckleberry Finn
,
The Adventures of Tom Sawyer
,
The Prince and The Pauper
and
A Connecticut Yankee in King Arthur's Court
while living in this home. The site houses a museum with rare manuscripts, artwork and personal artifacts from Clemens life. There is a two thousand square foot gallery with exhibits, which are changed regularly. There are daily tours and special scheduled events throughout the year. Tickets for seniors are $13, $15 for adults and $9 for children between six and sixteen. Parking is ample and free. While the main floor and museum is handicap accessible the full tour of the home includes navigating three flights of stairs.
Monte Cristo Cottage
in New London is the last Connecticut stop in the literary landmark legacy. This home is where Nobel Prize winning playwright Eugene O'Neill spent his formative years. He set two of his most famous plays in the area, 'Long Day's Journey Into Night" and his comedy "Ah! Wilderness". There are multimedia exhibits, memorabilia and artifacts on display. The site is run by the O'Neill Theater and is only open from Memorial Day through Labor Day each year, so I suggest always checking ahead before planning to visit the museum.

The Emily Dickinson Museum
in Amherst Massachusetts is comprised of two separate homes. The Homestead is Dickinson's birthplace, and where she called home for her entire life. The historic home next door was home to her brother Austin and his family. The furniture in both homes is true to the era and lifestyle of the Dickinson family. There are three different tours available for visitors, each to fit different sets of interests. The site is closed in January and February as well as on a few holidays. The homes are both handicap accessible on the first floor, but due to the historical nature of the grounds there are no elevators for access to the second stories and air quality may be an issue for those with respiratory complications.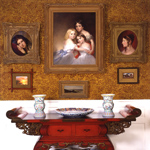 Longfellow House
in Cambridge Massachusetts was home to Henry Wadsworth Longfellow from 1837 to 1882. The site has books, portraits and historic furnishings on display. The house was also headquarters for General George Washington during the Siege of Boston in July 1775 through April 1776. This site offers many layers of literary and historic value for visitors. With this in mind there are a variety of tours available, I suggest calling ahead to see when tours for your interests are being given. If you are planning on including this stop keep in mind that the only on site parking is for handicapped visitors. However, there is abundant metered parking nearby.
Herman Melville's Arrowhead
in Pittsfield Massachusetts offers visitors a glimpse at the view that is said to have inspired the white whale in
Moby Dick
. The view from his study window is the imposing Mount Graylock. Visitors can tour the authors two story home and the restored barn where he enjoyed conversations with Nathaniel Hawthorne. Learn about Melville's daily life, journeys at sea and enjoy walking the same paths he once trod. The site is open from Memorial Day through Columbus Day for daily tours, however off season tours are available by reservation.
The Orchard House
in Concord Massachusetts is where Louisa May Alcott lived from 1858 to 1877. Visitors can see the small desk shaped like a half moon where she wrote
Little Women
. Tours of the home really make scenes from the book come alive. Guided tours of the Alcott family home offer visitors a chance to see objects of great importance to the family as well as a home that still looks much like it did while they lived there. This site is open year round, but hours vary depending on the season.
Ralph Waldo Emerson Memorial House
in Concord Massachusetts is a frame home in which Emerson lived most of his adult life and wrote
Self Reliance
and
The American Scholar
. He was a great influence of other American thinkers in his work and lectures on morality, the abolition of slavery and personal responsibility. Personal artifacts of Emerson are on display in the house. The site is open from the middle of April through October each year, although calling ahead is advised. Unfortunately the home is not handicap accessible.
Robert Frost Stone House Museum
in South Shaftsbury Vermont was Frost's home from 1920 through 1929. It is where he composed "Stopping by Woods on a Snowing Evening" which was part of his
New Hampshire
volume of poetry which won his first Pulitzer Prize. The timbered barn which Frost had written about in his poetry lies within the seven acre estate. Exhibits and lectures give visitors the feeling that they really know Frost and how he lived. There is also space dedicated to the work of J. J. Lankes, who did the beautiful wood cut images that decorated Frost's books in the 1920's. The museum is only minutes away from Frost's grave in Bennington Vermont. The site is open from tours daily from May though November.