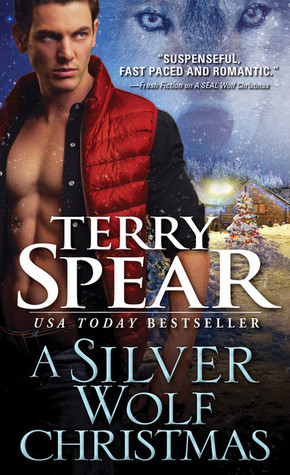 A Silver Wolf Christmas by Terry Spear is the seventeenth installment in the Heart of the Wolf series.

C.J. Silver is eager to help the new she-wolves in town renovate the old hotel in time for the holidays, especially if it means spending time under the mistletoe with the alluring Laurel MacTire.

The bustle in the long abandoned hotel attracts the attention of human ghosthunters out to prove the place haunted, but the bigger problem is keeping them from discovering the werewolves in Silver Town. CJ and Laurel have to pull the wool over everyone's eyes. Working together is a surprisingly hot holiday treat for two attractive and clever wolf shifters.
A Silver Wolf Christmas might be late in a series, but each book can stand on its own. While having read many (but not all) of the books in the series I recognized some of the characters. Knowing the background of side characters and the werewolf pack add a second layer of enjoyment to the story, but it is not necessary to dive into and enjoy this (or any) installment of the series.
C.J. is a good guy doing his part to keep the town, and his pack, running smoothly. The addition of three eligible sisters to the community is welcome, especially because of the chemistry between him and Laurel. He wants nothing more than to get to know Laurel, but she has other plans. Laurel and her sisters are trying to figure out what happened to her aunt years ago in the Silver Town. Buying and taking on the hotel she is rumored to have been living in is the best way they have to find the truth. However, the community has been very welcoming and the girls do not know who to trust. If something horrible happened to their aunt then it happened ere, and it was likely done by someone with family still in town. Meanwhile, a trio of ghost hunters are sniffing around the hotel with their own agenda. With all that going on with the sparks between Laurel and C.J. help or hurt the search for the full truth?
A Silver Wolf Christmas is a solid read, and while long time fans of the series will relish the return to Silver Town, I barely remember the last time the series brought me here. I really enjoyed the main characters, and the introduction to many new to me characters. There is plenty of new ground to cover in this series, and I enjoy the balance of connected stories and the ability for each book to also stand well on its own.