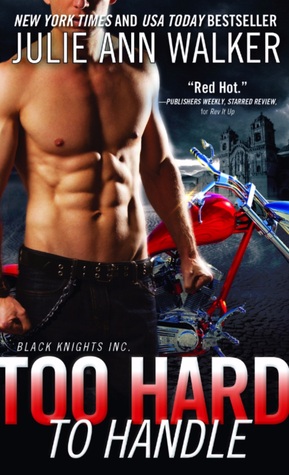 Too Hard to Handle

is the eighth book in the

Black Knights Inc. series by

Julie Ann Walker. It is currently scheduled for release on September 1 2015. I would not recommend starting the series here, as the main players have some serious back story that is very important to the story, along with a larger story arch that is just starting to get very intense. Readers that have already read the first book in Walkers newest series, Hell or High Water, will have even more recognition and satisfaction of the larger story arch.
Dan "The Man" Currington is back in fighting form with a mission that takes him four thousand miles south of BKI headquarters, high in the Andes Mountains of Peru. He's hot on the trail of a rogue CIA agent selling classified government secrets to the highest bidder, when Penni DePaul (who fans of the series will recognize) arrives on the scene. Suddenly the stakes are higher, and keeping Penni safe becomes Dan's number one priority. A lot has changed since former Secret Service Agent Penni DePaul last saw Dan. Now a civilian, she's excited about what the future might hold. But before she can grab onto that future with both hands, she has to tie up some loose ends-namely, Dan Currington, the man she just can't forget. And a secret that's going to change both their lives-if they can stay alive, that is.
Too Hard to Handle is a satisfying addition to the BKI series. I have been eagerly awaiting this story, to see Penni and Dan find each other again and see things through. Penni ending up in the midst of an operation that will lead then to the person responsible for the catastrophe that neither can forget is not completely unexpected, but is well done. There was high action and we get a look at how deep the corruption and evil causing so much trouble is rooted. The multilayered connections and changes of narrator could get confusing, I will admit to reading a couple passages more than once because of the differing perspectives and trying to figure out the larger puzzle before it all played out. While Penni does not reveal her big secret until the end, but I rather suspected what it was well before she finally revealed it. I think most readers will have the same experience with that part of the story, but suspense and efforts Penni and Dan make to come together that that a minor blip in my enjoyment.
Too Hard to Handle is a very well done addition to a very complex and realistic world created by Walker. While each book might be satisfying on its own, I would not recommend reading them as stand alones. The greater story is so well woven through the series that it would be a shame to read only part of it. I am looking forward to the continuation of this story, and how the rest of our BKI characters find their happy ever after. This is a must read for fans of Walker's work. If you love suspense, fast action, complex plots and characters, and hot love connections then I would highly recommend this series as a whole.