Hell or High Water is the first book the the new Deep Six series by Julie Ann Walker. It is currently scheduled for release on July 7th 2015 and takes place in the same timeline and big picture as the Black Knights, Inc. series. Only two things could make Leo Anderson abandon his hunt for the legendary lost ship, La Santa Christina, and return to the world of weapons and warfare he swore to leave behind: a capsule of enriched uranium, lost on the ocean floor, and a plea for assistance from the one woman he can't seem to forget. The nation's security has always been CIA agent Olivia Mortier's top priority. But a mission-gone-wrong has begun to make her wonder if there's more to life than risking hers.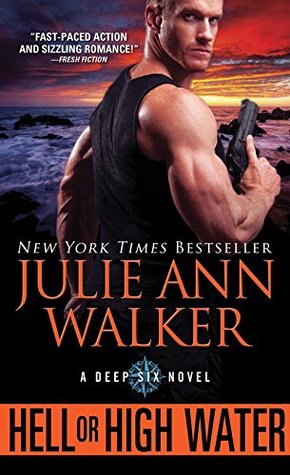 Hell or High Water is a good start to a new series, and I was glad to see a couple references to the Black Knights series. If you liked the combination of strong characters with some visible, and deeper, scars finding a path to happiness and a kind of peace then you will like this. I admit to liking some of the secondary characters, and the women, in the story more than out hero. However, this does not mean that Leo is not a good character, he just did not resinate with me as much as the other guys in his team or Olivia and later Maddy. There was lots of action, plenty of excitement and nail biting moments as well as a few times I wanted to bang my head on the desk in sympathy as Leo and Olivia face more than one interruption in their path.
Hell or High Water is exactly what I have come to expect from Walker. High action, hot guys, and characters that have multiple layers and high octane lives. I really liked Olivia and Maddy, as well as the full cast of guys in the dive team. I am looking forward to seeing how the big picture of the Black Knights and Deep Six teams come together as the stories continue.