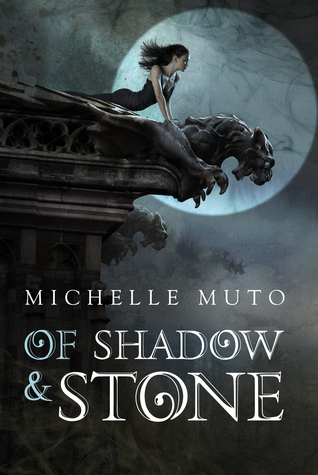 Of Shadow and Stone by Michelle Muto is a gothic or paranormal fantasy. Gargoyles were created centuries ago to protect mankind but something went horribly wrong. Now only the sentinel, a mortal chosen to control the stone beasts, stands between them and their human prey. Kate Mercer is destined to be the next sentinel. But she has a skyrocketing film career, a delusional ex-boyfriend, and a crazed stalker who will stop at nothing to get to her. However, Kate is transported to Shadow Wood, a mysterious castle that serves as a sanctuary for the supernatural. Shadow Wood is beautiful but no safe place for a mere mortal. Yet Kate is drawn not only to the gargoyles but also to Ian McGuire, a charming novelist who might be in the greatest danger of all.

Of Shadow and Stone is a novel with a little bit of everything. There is a gothic feel to the whole story, with mysterious people and creatures that have even more mysterious intentions. Readers first meet Declan, the Lord of the Netherworld looking fore a replacement sentential. He thought his friends and author Ian might be the perfect candidate- but he has a different fate in store for him. Kate is the chosen sentinel, if she will accept the responsibility. Throw in some supernatural creatures running around Shadow Wood, a stalker, and a delusional ex boyfriend and you have a good idea of what this book holds in its pages. Despite the number of intense things happening, and the variety of viewpoints the story is told from, you still get characters that are multidimensional and some serious suspense. It was an intriguing read, and one I was afraid to look away from because I might miss something. I still feel a bit like if I go back and read it again I will get more from the book, and perhaps a completely different story.
I would highly recommend Of Shadow and Stone to readers that enjoy paranormal fiction and gothic stories. While there is a romance tied up in the story, it does not over shadow the suspense and supernatural aspects of the story. A great read for those that feel like they are trapped in a rut, or keep reading the same basic story over and over. This is something different and unique.