The Accidental Alchemist by Gigi Pandian is a unique book that will appeal to a variety of readers.

Zoe Faust is an herbalist, alchemist, and recent transplant to Portland, Oregon. As she starts unpacking she discovers a stow away. She finds a living, breathing, three-and-half-foot gargoyle in a box she has shipped from her store in France. Dorian Robert-Houdin, the gargoyle, he needs Zoe's help to decipher a centuries-old text that explains exactly what he is and why he is having health troubles. Zoe, who is still weary of her alchemical life, isn't so sure she can help. But when she finds her handy man murdered on her front porch, Zoe realized she's tangled up in ancient intrigue that can't be ignored.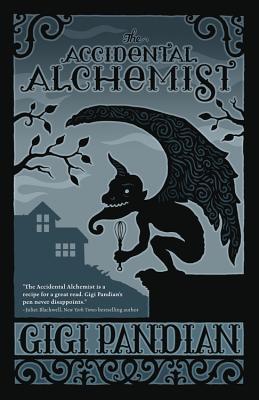 The Accidental Alchemist has elements of the cookbook mystery (with wonderful recipes included), a new age or paranormal mystery, some romance, and some suspense and action to boot. I liked the character of Zoe, a intelligent and long lived women that still looks to be in her 20's despite her white hair. she is an herbalist and will versed in alchemy even though she has avoided practicing it for years because of painful events in her past. Brixton is a young teen that has broken into Zoe's house on a dare, and discovered more about her secrets that she wanted. he ind his three friends offer some youthful indiscretions and risk to Zoe and Dorian, while the local police officer Max carries a different kind of danger with him. Blue, Olivia, Sam, Heather, and Ivan round out the town's eccentric but well intentioned crew. Be prepared to be hungry after reading because the descriptions of Dorian's cooking had me eager to cook up some winter veggies and have at it even though I am an omnivore. There is just so much going on here, but at no time does the book become overwhelming or lose a thread of the larger story.
Readers of the adult, new adult, and young adult persuasion will all find something in The Accidental Alchemist that appeals to them. There are many thread of mystery and character growth going on through the book, and at no point did any of those threads get dropped. I am eager to see where this new series goes. The writing style and layering has me interested in the other's other works, and I plan on checking out her previous series, J
aya Jones Treasure Hunt.