The Money Pit is the second book in the Barkside of the Moon series by Renee George. I had not read the first book, but George did such a great job of dropping in important information about the first book that I felt like I had.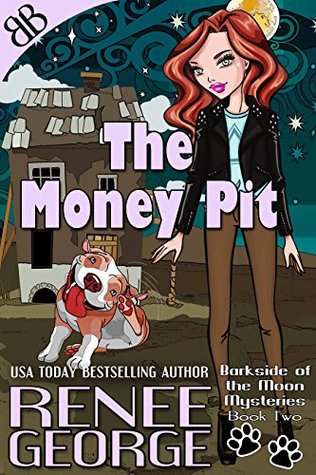 Cougar-shifter Lily Mason is trying hard to live as a human in Moonrise, Missouri. But renting a garage apartment from Parker Knowles, her boss at the Pit Bull Rescue Shelter, is making it difficult to keep her secret. Lily makes an offer on a "fixer-upper" with a checkered past and begins work on getting the place ready for her and her dog Smooshie. The sweet pitbull proves primed for demolition when she scratches a hole in a wall and yanks out a human bone. The investigation brings Lily unwanted attention from the local police chief who has an ax to grind and a murderer desperate to keep the past in the past. Lily needs Smooshie and Parker more than ever if she wants to keep her secret and prevent another killing!
The Money Pit is a charming mystery with great characters. I enjoyed Lily's character, she is smart and strong with secrets she needs to keep, and innate skills that lead to her knowing other people's secrets. I loved the animals, Smooshie and Elvis were special characters all their own. I think the mystery was well formed and kept me guessing through the book. I was certainly surprised with a couple twists, but in a good way. I greatly enjoyed the read, and will be checking out the other books from George as time allows. The writing style and character development made me happy, and the other authors mentioned in the acknowledgements are some of my favorite in the genre, so that could be part of the feel.
The Money Pit is a fun, fast paced cozy mystery for dog lovers and mystery fans alike. Rich characters and a unique small town come together for a highly entertaining read. In fact, I bought and downloaded the first book after reading this one, not because I needed the background information, but because I loved the characters so much I wanted more.