Dead and Breakfast is the first book in the Merry Ghost Inn series
by Kate Kingsbury.
Melanie West is getting her life back on track after a messy divorce when her grandmother, Liza Harris, asks her to open a B&B with her. Together, Liza and Melanie purchase a purportedly haunted mansion on the Oregon coast and jump right into clearing out the cobwebs. But while attempting to remove wallpaper in an upstairs bedroom, the new B&B owners stumble upon a very real skeleton in their closet.
The police suspect the skeleton is that of the wife of the previous owner of the B&B, but no one in town seems to want to say much about her. As the inn owners try to juggle renovations with their own amateur investigations, their grand opening looms closer and closer--and a friendly ghost in their walls starts playing tricks. But it all comes crashing to a halt when a new body is found stabbed to death on the beach below the inn--the victim chillingly close in resemblance to Melanie herself.
It seems someone doesn't appreciate newcomers prying into the small town's past, and now it's up to Melanie and Liza to get to the bottom of these murders to save their business and their lives.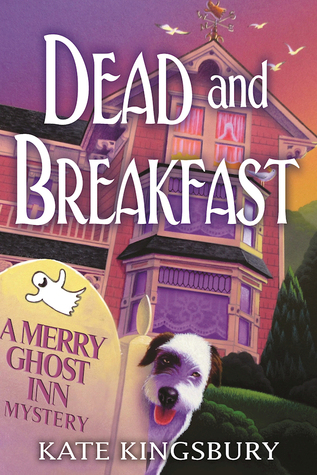 Dead and Breakfast is a cozy mystery with lots of charm. Melanie is getting her life back on track, with the help of her grandmother. They are working hard together on the venture of remodeling and running a bed and breakfast. As you might imagine, things do not go quite as planned. I liked that our main characters never really wallow in the delays and problems those delays bring to them. Instead they work on making the changes and put in the effort necessary to help themselves. I also like that while the possibility of future romance, and the threatening ex-husband make an appearance- the guys are really a minor part of the story. It is more about the character development and setting building needed for a series starter, and the murder mystery at hand. I still think my favorite part of the story was the inclusion of the dog, while it could be seen as a little trite, it worked with the story and character development so much that it worked. I liked the combination of independence, intelligence, and vulnerability in both Melanie and Liza and look forward to what every mysteries await them in the future.