Bone Witch is the first book in a new series by

Rin Chupeco and is currently scheduled for release on March 7 2017.

When Tea accidentally resurrects her brother from the dead, she learns she is different from the other witches in her family. Her gift for necromancy means that she's a bone witch, a title that makes her feared and ostracized by her community. But Tea finds solace and guidance with an older, wiser bone witch, who takes Tea and her brother to another land for training. In her new home, Tea puts all her energy into becoming an asha, one who can wield elemental magic. But dark forces are approaching quickly, and in the face of danger, Tea will have to overcome her obstacles and make a powerful choice.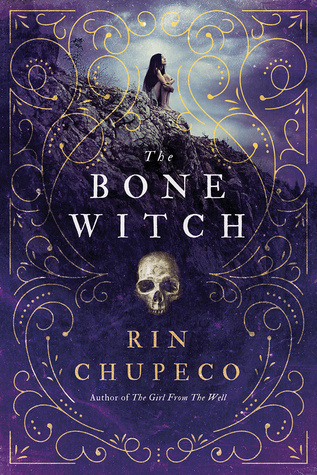 Bone Witch is a book with a fantastic premise and well defined characters. Tea is a strong character with plenty of insecurity, but always trying to be the best she can. She does occasionally do things that are not right, but it only serves to make her more realistic. Her brother, the older as has, and characters she meet are also well fleshed out. The world, its mythology, and dangers were very well done and I liked the magic and social construct aspects of the story, and thought the political machinations were very well done and believable. I also like that there were moments that completely took me by surprise. Appearances and actions lead readers and characters alike to assumptions that are far from true.
What I did not like was the flipping between two timeframes. While the changes were clearly noted, the future or present depending on how you want to thinks about it is in italics. So it is not confusing, but I found that it broke my reading rhythm and made it harder to get lost in the story. My other problem, which might be deeply connected, is that the book felt very long. There were some very important things that could not, and should not, be left out but I felt like some of the descriptions could have been less wordy, or something. I just found myself looking at the hours or percentage of the book left to read several times and being surprised how much more there was to go.

Bone Witch is a entertaining read with a wonderful premise and serous world building. Those that like full visual descriptions and detailed explanations will love it. Readers that need a faster pace and prefer to use their imagination for more of the little details might get frustrated with the read. It was very well done, but just did not fit what I was looking for while reading.