Unhidden by Dina M. Given is an urban fantasy and starts off The Gatekeeper series. It's not always easy to tell the good guys from the bad guys, especially when your heroine is a trained killer and she may be falling in love with her evil hunter. Emma Hayes, a former military Special Forces Operative turned mercenary-for-hire, finds her tightly controlled world turned upside down when she is attacked by horrible monsters. Emma must use every skill in her arsenal to stay alive as she tries to solve the mystery of why she has been targeted. Her list of enemies keeps growing and she doesn't know if there is anyone left she can trust. Emma is left haunted by questions, doubts and fears as to why she has been targeted, when they will come for her next, and how she will possibly be able to survive against an enemy she doesn't understand.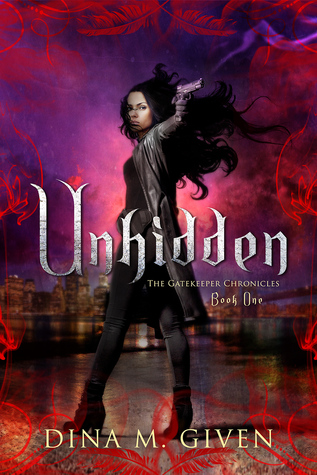 Unhidden is a book that is high interest and drama, with a lot of ground to cover to set up the ways and wherefores of character actions and relationships. I liked Emma from the start, she is a tough cookie with an uncertain past, and an even more uncertain future it seems. She remembers nothing before waking up in a military hospital over ten years ago, and those missing memories are now key as monsters and people from her past seem to be lurking in every corner. Her current friendships are already strained, and everything is only getting harder. She is adrift but making the best and most strategic choices she can with the information she has. Getting to know the secondary characters and complexity of how everything fits together is well executed, but at some point the exciting battle and action scenes toward the end had me skimming a little to see what was going on with particular characters rather than investing fully in the details about the creatures, their fighting, and the general carnage involved. It was all important, but I just think I reach fatigue levels and my interest faltered. I do not think it is the fault of the author or the style- I think it was my personal issue. The story did offer up a conclusion with enough closure to be fairly satisfying but with enough unanswered questions to encourage further reading.
Unhidden started off well, but after awhile I just wanted the battles and conflict to stop long enough for me too see where all the characters were and what was going on with them, rather than the complex power struggle. There is nothing I can point to that was lacking, I just am more interested in what is going on in the character's heads rather than who is wielding what weapon and how. A satisfying read and good starting point for a series, I just got impatient toward the end.