To Love a Wolf
is the forth book in the SWAT: Special Wolf Alpha Team series by Paige Tyler. SWAT officer
Landry
Cooper is certain
Everly
Danu
is The One. The problem is, she has no idea what Cooper really is. And as much as he wants to trust her, he's not sure he can share his deepest secret. When
Everly's
family discovers Cooper's a werewolf, her brothers will do anything to keep them apart-they'll kill him if they have to.
Everly
is falling hard for the ridiculously handsome SWAT officer, and she's not about to let her brothers tell her who she can love, until Cooper's secret is exposed and she discovers the man she thought she knew is a monster in disguise.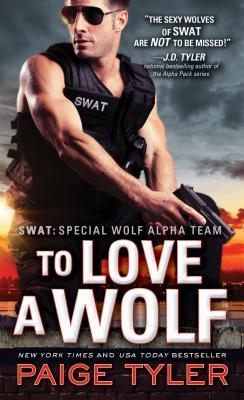 To Love a Wolf
is a nice continuation in the series,
and still
can stand well on its own.
Landry
might be a
firm
believer in the
existence
of "The One" but he never expected to meet his while waiting in line a a bank about to be robbed. I liked him, and was glad to see more of his past and thoughts. I really liked
Everly's
personality
, background, and family dynamics. I thought we could have
benefited
from seeing more of the guys in her family earlier in the book, it would have been interesting if there were a longer conflict there. However, I hope to see more of them in later books. A heated romance, some crazy coincidences, and slow acceptance of revealed secrets keep the story moving along. At one point I felt it could be wrapped up, but the story went for a bonus crisis instead. It still worked, but more character development or conversation might have made me happier.
To Love a Wolf
is another solid
installment
in Tyler`s series. I loved getting to see
Landry
get his happy ever after. While there were some moments that were a
little
too
convenient

, it all came together well and kept me reading.