The Dirt on Ninth Grave by Darynda Jones is the ninth book in the Charley Davidson series. I have not read the previous books in this series, although I feel like I had a good handle on the book anyway. I do think that this is a series better read in order.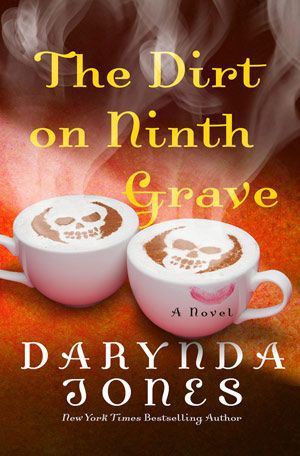 In a small village in New York lives Jane Doe, a girl with no memory of who she is or where she came from. So when she is working at a diner and slowly begins to realize she can see dead people, she's more than a little taken aback. Stranger still are the people entering her life. They seem to know things about her. Things they hide with lies and half-truths. Soon, she senses something far darker. A force that wants to cause her harm, she is sure of it. Her saving grace comes in the form of a new friend she feels she can confide in and the fry cook, a devastatingly handsome man whose smile is breathtaking and touch is scalding. He stays close, and she almost feels safe with him around.
The Dirt on Ninth Grave is a book that seems to bring a lot of previous plot set up together. Sadly, having missed that set up, the conclusion to the book was a little confusing for me- although I think steady readers of the series would have the knowledge that would have made it very important and dramatic. However, since the main character had amnesia for the majority of the book, I feel like I got a chance to see the major players without any preconceived notions or prejudice. I really liked Jane (Charley), and her combination of vulnerability and willingness to help others, even those that she did not get along with. Her co-workers, customers, and new friends dropped accidental hints about her and helped her as much as they could without unloading the whole crazy past and possible danger of the present and future. The romantic interplay was in the background for the most part, leaving Jane/Charley's sleuthing and risks to take the center stage. I was a highly entertaining and engaging read. I can only imagine that would be more true if I had more of an idea of the bigger picture as I read.
The Dirt on Ninth Grave is a solid urban fantasy, which made me really wish I had read the first eight books in the series. I liked the characters, and the action. Since I had not ventured into this series before I feel like I missed out on some serious world and plot building which would have made the book's conclusion epic rather than slightly overwhelming.
I think those that have read the previous books will definitely get more from the experience than I did, but I still enjoyed the read. Guess I have another series to read up on.