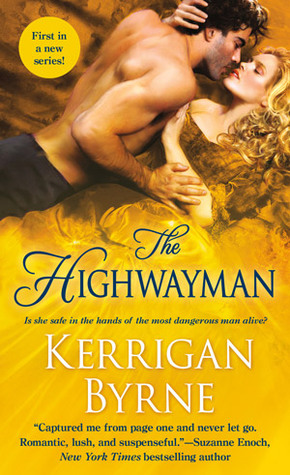 The Highwayman is the first book in the Victorian Rebels series by Kerrigan Byrne.

Dorian Blackwell, the Blackheart of Ben More, is a ruthless villain. Scarred, hard-hearted, Dorian will stop at nothing to wreak vengeance on those who've wronged him. The widow Farah Leigh Mackenzie is no exception, and soon Dorian whisks the beautiful lass away to his sanctuary in the wild Highlands.

But Farah is no one's puppet. She possesses a powerful secret, and when being held captive by Dorian proves to be the only way to keep Farah safe from those who would see her dead, Dorian makes Farah a scandalous proposition: marry him for protection in exchange for using her secret to help him exact revenge on his enemies. But what the Blackheart of Ben More never could have imagined is that Farah has terms of her own, igniting a tempestuous desire that consumes them both. Could it be that the woman he captured is the only one who can touch the black heart he'd long thought dead?
The Highwayman begins with Farah as a child in an orphanage, giving the readers a deep look into her personality and first love. Quickly readers see her as an adult, making her own way in the world and quite respectfully. When Dorian and Farah meet it is not under the best of circumstances, and they do not get better for a significant part of the book. This works well because we get to see Farah as an adult, a strong minded and intelligent one to boot. We also get to see glimpses of Dorian and his men, and peeks into the past that have a huge influence on the pair's present. I really enjoyed the interactions and practicality of both characters. I will say that I though the obvious twist was done in a way that had me doubting my assumptions through our the book, even though I was positive that I was right. The story was very well told, and had me very eager to see what would happen next. While the story concludes with no cliffhangers, and pretty perfectly, the writing style and story have me watching for the next book in the series.
The Highwayman is a solid and entertaining read. I was so involved that I read it very quickly. I wish I could have slowed down and enjoyed it a bit more, but the promise of more to come keeps me happy. The story is not perfect, but its characters are very well done, and I was deeply invested in the story.