Children between nine and twelve are a hard group to suggest books for. They are trapped in the middle of being young children and teens, and feel the challenge of trying to find their place. Books marketed to children in this group often miss the mark because they aim for minds too young or too sophisticated. Thankfully there are some great books from every genre out there for his age group, they are just a little harder to find. Here are ten of the best classic adventure books for this challenging age group.
Julie of the Wolves by Jean Craighead George gives reader the story of an Inuit girl who leaves her people. At thirteen Miyax is an orphan and married. She is hoping to reach San Francesco but becomes lost is the tundra where she survives with the help of a wolf pack. Eventually she needs to decide if she belongs with people or wolves. The book is touching, poignant and extremely powerful.

Island of the Blue Dolphins by Scott O'Dell is about twelve year old Karena who jumps from a ship to save her brother who had been left behind while the rest of her tribe is evacuated. Unfortunately he dies and she is left alone. She must fend for herself and learn how to survive by herself on the island through her determination and memories of her tribe. It was based on a true story.
My Side of the Mountain by Jean George is a story of survival and discovery. Fifteen year old Sam Gribely runs away from home to live on his own in the Catskill Mountains. He makes a home for himself and befriends animals. Sam lives the dream that most children have had at some point, and shows how hard it really is to survive in the wild. Intelligence, discipline, and determination are key aspects of Sam's survival.

The Sign of the Beaver by Elizabeth George Speare shows readers the struggles of thirteen year old Matt. He is left alone to protect his family's homestead when his father travels east. After he is stung by bees he is treated and cared for by a local Native American man. To repay the kindness he teaches the man's grandson to read who in turn teaches Aaron about the wilderness. This is a story of friendship, hard choices and survival.
The Half-a-Moon Inn by Paul Fleischman is an engaging tale about a twelve year old mute boy named Aaron. He is off on a search for his mother in a blizzard but is held captive by an evil innkeeper after spending the night there. The book is suspenseful and Aaron is a proactive hero that will keep anyone reading.
Toliver's Secret by Esther Wood Brady tells the story of ten year old Ellen who disguises herself as a boy during the Revolutionary War to complete her wounded grandfather's mission. She needs to deliver a secret message George Washington to help defeat British troops. The book is a phenomenal historical novel for the age group and gives a great feel for the time period. It also helps show that sometime it is a good thing to step outside your comfort zone and do something difficult and to persevere when things do not go as planned.
Number the Stars by Lois Lowry is an adventure story set in Denmark during World War II. It is a true story interpreted by Lowry and told through the eyes of ten-year-old Annemarie Johannesenin. Annemarie and her family are doing their best to help her best friend Ellen and her family. The story moving and really gives readers a feel for the danger and trauma that the characters faced. It is even more poignant because it is based on truth. I think everyone should read this book at least once.
A Girl Named Disaster by Nancy Farmer is an adventure story about an eleven year old girl named Nhamo living in Mozambique. Circumstances force her to flee her home to escape an unhappy marriage. She starts out on a two day river voyage to her father's family in Zimbabwe, but things do not go as planned. Her journey ends up taking over a year, with Nhamo making mistakes and almost starving but ultimately surviving. The book has spiritual aspects as well as adventure and great information on cultures children might not otherwise have exposure to.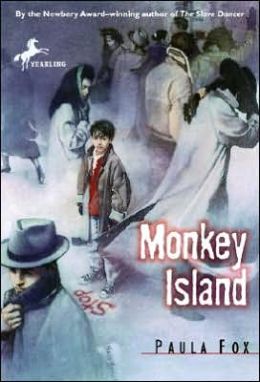 Monkey Island by Paula Fox tells readers about eleven-year-old Clay. His father loses his job and after becoming distant from his family just disappears. Soon his pregnant mother disappears as well and he is alone. Clay soon takes to the streets and finds a way to survive while searching for his mother in New York City. This is an unflinching look at the realities of urban homelessness. There might be disturbing moments for less mature readers, so I do suggest parents read first to see if it is to harsh for your readers.
From the Mixed-Up Files of Mrs. Basil E. Frankweiler by E. L. Konigsburg is not about surviving in the wild or during war times. Thos adventure follows siblings Claudia and Jamie who have run away to live in an art museum. They need to find a way to avoid notice and live. They are only there a short time when they discover a mystery that needs to be solved. This Newbery Medal winner is a timeless book that can be enjoyed by boys, girls and their parents.