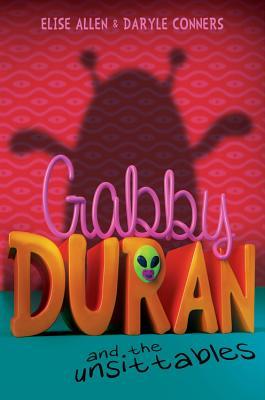 Gabby Duran and the Unsittables is a middle grade novel by Elise Allen and Daryle Connors.
The Association Linking Intergalatics and Earthlings (hereby known as A.L.I.E.N.) has a new member. After months of investigation, Gabby Duran, Associate 4118-25125A, has proven herself to be a babysitter extraordinaire. Her celebrity clients fly her around the country to care for their rambunctious little humans. Our spy, Associate 4118-23432B, otherwise known as Edwina, believes Gabby can be trusted with the truth: aliens are living among humans on Earth. After accepting a top-secret position, Edwina has paired our new associate up with her first charge, a little girl from the planet Flarknartia. The timing for associate 4118-25125A is less than ideal. It's a school day on Planet Earth, Gabby's audition for the solo part in the band is tonight, and this tiny alien is a bit more than meets the eye. Can Gabby Duran, Associate 4118-25125A, First Sitter to the Unsittables, keep her otherworldly charge safe in the unpredictable halls of middle-school and keep A.L.I.E.N hidden?
Gabby Duran and the Unsittables is a fun and fast paced middle grade novel. Gabby is a great babysitter, one that cares about every kid and understands that understanding the child being cared for makes babysitting easy. She deals with every quirk and troubling behavior without losing her cool, well until she is kinda kidnapped by Edwina and offered an unusual new child to what- who just happens to transform into something new. I really like that the story includes ideas about responsibility and empathy while being so fun and action packed that the lessons are almost subliminal. There are plenty of silly moments, as well as some that will have readers holding their breath. I think this book will be a big hit with middle grade readers, and many older readers as well.
Gabby Duran and the Unsittables is a wonderful read for the middle grade and older. I think anyone that has been in a situation where they have babysat or even had the responsibility of taking care of another human being for a few minutes, will connect with Gabby and the story almost immediately. Anyone that is a little different, or that enjoys a good science fiction tale will also enjoy the book.