When children first discover books some parents and educators push hard to keep that interest high, which others just seem to let it fade. I find that many kids will dig their heels in and avoid what ever is being pushed at them, while others need that encouragement. I think the best thing we can all do is set a good example, and show that reading can be enjoyable. Another key in promoting reading is to offer a variety of books that are reading level and age appropriate. It is also good to have a wide variety of formats and topics, however if your young reader is obsessed with a particular topic (like my daughter with animals) than picking books at least vaguely related to the topic might be the perfect lure.
Here are some suggestions for emergent and beginning readers that just might place them on the path to be book lovers.
Mo Willems' Who is That, Cat the Cat? and frankly just about anything he writes, are wonderful books for young readers. His use of rhyme, repetition and humor make the inevitable rereading fun for the adults that might be read the book as well as for the young readers. The Cat series, Elephant and Piggie Series, as well as the Pigeon series are all hits with readers of all ages in my house.
Like my man Mo, I find that James Dean's Pete the Cat series is consistently great reading for this group. From I Love my White Shoes to the more recent Pet the Cat and the New Guy there is rhyming, humor, and a song like quality to all of the books. Some of the Pete books are in classic picturebook format while others are easyreaders, but they are all great fun.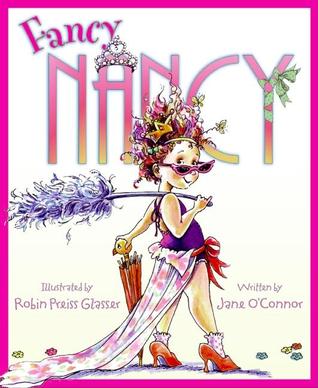 Another all around winner is Jane O'Connor's Fancy Nancy series. I have not had much time exploring this series, as neither my son or daughter are interested in anything that could be considered fancy, or most days even neat, but they are hugely popular in the library.
Getting through those authors will take a good chunk of time, but variety is the spice of life.
So in the effort to mix things up and keeping a variety of different reading options available I would also suggest:
Patricia MacLachlan, is another author you can count on.
White Fur Flying
is an great book for this group, but has no illustrations.
Fly Away
and
Once I Ate a Pie
are other good options. For the readers that are more determined and advanced they might want to step up to her more sophisticated book:
The Truth of Me: About a Boy, his Grandmother, and a Very Good Dog,
Hilary McKay's Lulu series, which so far includes
Lulu and the Duck in the Park
,
Lulu and the Dog from the Sea
,
Lulu and the Cat in the Bag, Lulu and the Rabbit Next Door, Lulu and the Hedgehog in the Rain,
and
Lulu and the Hamster in the Night.
I also suggest Kate Messner's Marty McGuire Has Too Many Pets, Mary Pope Osborne's Magic Tree House series, Jeff Brown's Flat Stanley series, Annie Burrow's Ivy & Bean series, Kate DiCamillo's Mercy Watson or Blink & Gollie series, and any books published under Scholastic's new Branches imprint which are specifically targeted to this group of growing readers to capture their interest and get them to love reading.
Thankfully there are a large number of books with the large print, quick pace, and simple wording that will satisfy even the most reluctant of new readers. To whet the appetite, do not forget that most of these books are also available on audiobook. I hooked my young readers on the Magic Tree House series by playing the audio books in the car and then offering the books in the house. That made the harder words and ideas more accessible to them, and kept them interested and reading!
Did I miss one of your favorites? If so, share your suggestions in the comments so others can add them to their reading lists.