Kitty Hawk and the Icelandic Intrigue is the third book in the Kitty Hawk Flying Detective Agency series by Iain Reading. This is a series I highly recommend reading in order, more for the understanding of the main character than the story line. Kitty Hawk is on an epic flight around the world in her seaplane. As this book opens she has said farewell to the Florida Keys and arrives in Iceland's capital city of Reykjavik. Before she knows it Kitty is plunged head first into an amazing adventure that sweeps her across a rugged landscape where humans and nature exist side-by-side in an uneasy truce and magical realms seem to lie just out of sight beneath the surface. Kitty encounters historic and environmental wonders, welcoming people, dangerous criminals, corrupt government officials, and mystical beings and clashes with the elemental forces of nature. While her curiosity puts her in harms way, her piloting skill and quick wit will hopefully get her out alive.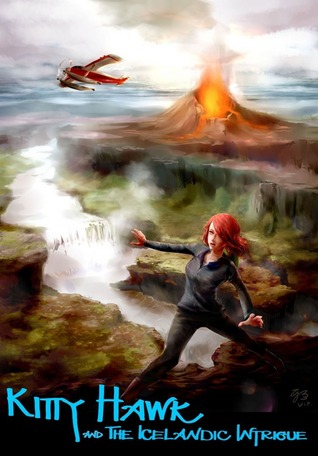 Kitty Hawk and the Icelandic Intrigue held up to the quality that I expect from this series. Kitty is daring, but only occasionally reckless, and is very smart. She still talks to herself, but when you spend that much time alone it should be expected. She gets herself into crazy situations, and meets some very interesting people. Again, there is an environmental theme, with the question of aluminum smelting and the tough choices that need to be made to mitigate the damage people are doing in their efforts to make a product and a profit.
The volume of information shared about Iceland and its culture is significant, but it is done in a way that it blends in with kitty's adventure. She is curious and wants to learn about the people and places she encounters on her way, so readers are given the same experience. I like that many little details are left to the readers imagination in the end, like in previous books, when things that could have mundane or paranormal explanations, but the big questions about crimes and who might have harmed another are all answered. Fans of this series will fall right back into Kitty's story, and enjoy every minute of it.
If you have enjoyed Kitty's adventures so far, then Kitty Hawk and the Icelandic Intrigue is a must read. If you have not tried this series yet but love adventure, suspense, and a plucky teen finding her way, then you need to start at the beginning with Kitty Hawk and the Curse of the Yukon Gold. So ahead, get started, I'll wait. I am eager to read Kitty Hawk and the Tragedy of the RMS Titanic, which is already loaded in my Kindle and waiting for my attention.