Enter to win a hardcover copy of this picturebook at the end of this review!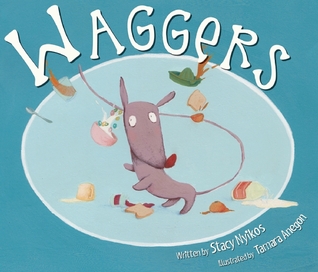 Waggers is a picturebook written by Stacy Nyikos and illustrated by Tamara Anegon.
When Waggers is adopted, he tries to be a good dog, he really does! But Waggers's tail goes crazy when he gets excited, and Waggers' tail is extra long. You would not think a tail could do much harm, but his tail causes trouble on a epic level. He never means to cause trouble, but his happiness or excitement makes his tail go crazy and then trouble ensues. After too much damage has been caused, mom and dad think Waggers might not be the right dog for their family. Can Waggers and his family find a way to stay together?
Waggers
is a charming picturebook about a dog that just wants to be loved and be part of a family. however, Waggers' seemingly uncontrollable tail causes trouble at every turn. Anyone that has a good natured but very active child, pet, or adult in their life has met a creature like Waggers. All smiles, love, and good nature but leaving destruction in their wake. Like Waggers, awareness of themselves and a good way to channel that energy makes all the difference. I think the book offers a good message about giving chances, channeling enthusiasm, and love surpassing issues when given a chance. the illustrations perfectly capture the trouble and charm that is Waggers. I really enjoyed the colors and personality evident on each page.
I recommend Waggers to anyone with a pet, particularly one that causes unwitting destruction. Readers that carry that same enthusiastic abandon or know someone that does will also greatly enjoy this book. however, do not pass it up just because your life or house is peaceful, Waggers will charm and bring a smile to the face of anyone that picks it up.
About the Author:
Stacy Nyikos is the award-winning author of many mischievous books for children. She's not sure how that happened. She didn't get into trouble as a child. Well, if you don't count borrowing sandwiches from her dad. He wasn't eating them anyway. Stacy holds an MFA in Writing for Children at Vermont College, which she didn't borrow. They gave it to her. Really. Ask her kids. Or her dog. Just don't ask her husband. He's misplaced a few sandwiches. When she isn't chasing stories—or sandwiches—Stacy can be found scribbling in the wilds of Oklahoma. She is currently working on a new adult novel about her grandfather's adventure canoeing from Indiana to New Orleans – over 2,000 miles of paddling – in 1939.