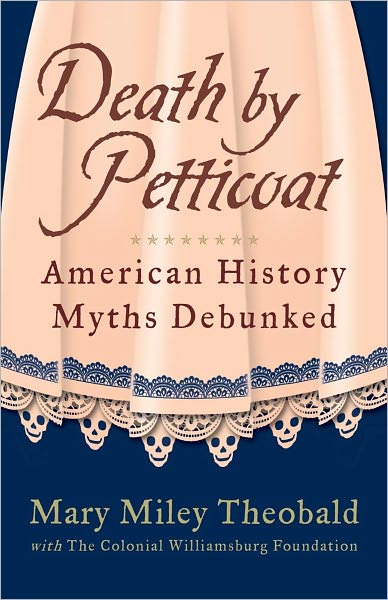 Death by Petticoat: American History Myths Debunked
by Mary Miley Theobald, with the support of the Colonial Williamsburg Foundation, is schedule for release on June 5 2012. This book explores sixty-three myths about Colonial America that are often repeated in schools, trivia games, and even historical homes or museum. The truth of the myth, how it might have come about, and why it is still repeated is given for each. There are also full color photographs to illustrate some of the myths. Some of the myths mentioned include women dying because of petticoats catching on fire, taxes of closets and furniture dictating how people kept their clothes, and the worth of nails. This is a quick and fun look at the myths and truths about American life in the Colonial era.
Death by Petticoat
is short and sweet. While each of the myths mentioned are well researched, there is not much depth to the discussion. Each myth description and debunking is an around a page long, some not even a full-page. Some of the myths mentioned are ones that I had never heard, much less believed, while others I already knew the story behind. I think some further dissection and information on the time would have made the concept much more interesting and informative.

Death by Petticoat
is a fun book for trivia lovers or for using in a classroom prior to visiting a historic location. However, this is not for serious history buffs. It is a fun book, a quick and interesting read for all ages. I think it would be perfect for selling museum gift shops. It would be opportune for short reading intervals, for waiting in the car or bathroom reading.